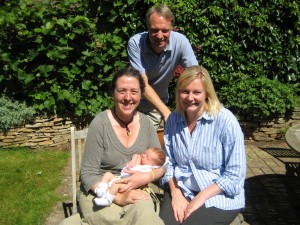 After March 2017 I will not be attending your birth as a births. I hope to resume birth support services in 2018. Birth support means I will be with you during birth as your advocate but you will still need to have an NHS midwife present at your homebirth, hospital or birth centre birth. I will be able to provide support and information antenatally, throughout your labour and postnatally, but I will not be able to monitor your baby's heartbeat or be legally responsible for providing midwifery assistance at the birth. Of course you will still benefit from my extensive midwifery wisdom with this type of support.
See more about the history behind the current situation here Independent Midwives UK
This non-clinical care includes providing practical and emotional support and information, throughout your pregnancy, labour and postnatal period.
The cost of my services may be more than a doula, but reflects my experience of 33 years as a qualified health professional and childbirth educator. Having attended the births of hundreds of babies I have learnt how best to support women and optimise your chances of a positive birth experience.
Depending on your individual requirements there are different options available to you.
Birth Consultant support may include:
Monthly meetings from 16 weeks of pregnancy to discuss pregnancy issues and birth preparations,
Birth preparation/practical parenting information for you and your birth partner.
On call for your labour from 38-42 weeks of pregnancy (or longer by mutual agreement if required).
On-going e-mail support or skype sessions.
Planned attendance during your labour and birth.
Postnatal visits, typically on days 1, 3 ,5, 7 and 10 to provide support and information.
Additional non clinical antenatal or postnatal support visits in your own home, are available if needed at £50/hour.
Please don't let the cost put you off enquiring, as interest-free payment plans and other options are available.
As well as providing birth support I offer birth planning, antenatal classes, and antenatal and postnatal support visits. I have considerable experience with spontaneous breech births and vaginal Birth After Caesarean VBAC. I specialise in caring for women who's previous birth experiences have been traumatic, and caring for women who have suffered adverse events in childhood, or as an adult.
I provide a high quality caring service tailored to your individual requirements. I have a calm and gentle way of working which is very popular with my clients. All care is provided in the safety and privacy or your own home at times to suit you.
A systematic review of the effects of continuous labour support was published in The Cochrane Library in 2011, issue 2. This review summarizes results of 21 randomized controlled trials that involved 15,061 women. It showed:
Women who received continuous support were less likely than women who did not to:
have regional analgesia
have any analgesia/anaesthesia
give birth with vacuum extraction or forceps
give birth by caesarean
have a baby with a low 5-minute Apgar score
report dissatisfaction or a negative rating of their experience.
Women receiving continuous support were more likely than those who did not to:
give birth spontaneously (that is, with neither caesarean nor vacuum extraction nor forceps)
have a shorter labour.
I qualified as a nurse in 1987 and a midwife in 1989. I took time out to have a family of my own, returning to midwifery in 2002.  I then worked for 3 years as a midwife in a birth centre, caring for women wanting straightforward birth. I became an Independent Midwife in 2005, mainly caring for "high risk" clients. In 2013 I began to offer support services to parents.
Contact Joy Horner on 07939247462.